Backflow Prevention & Cross-Connection Control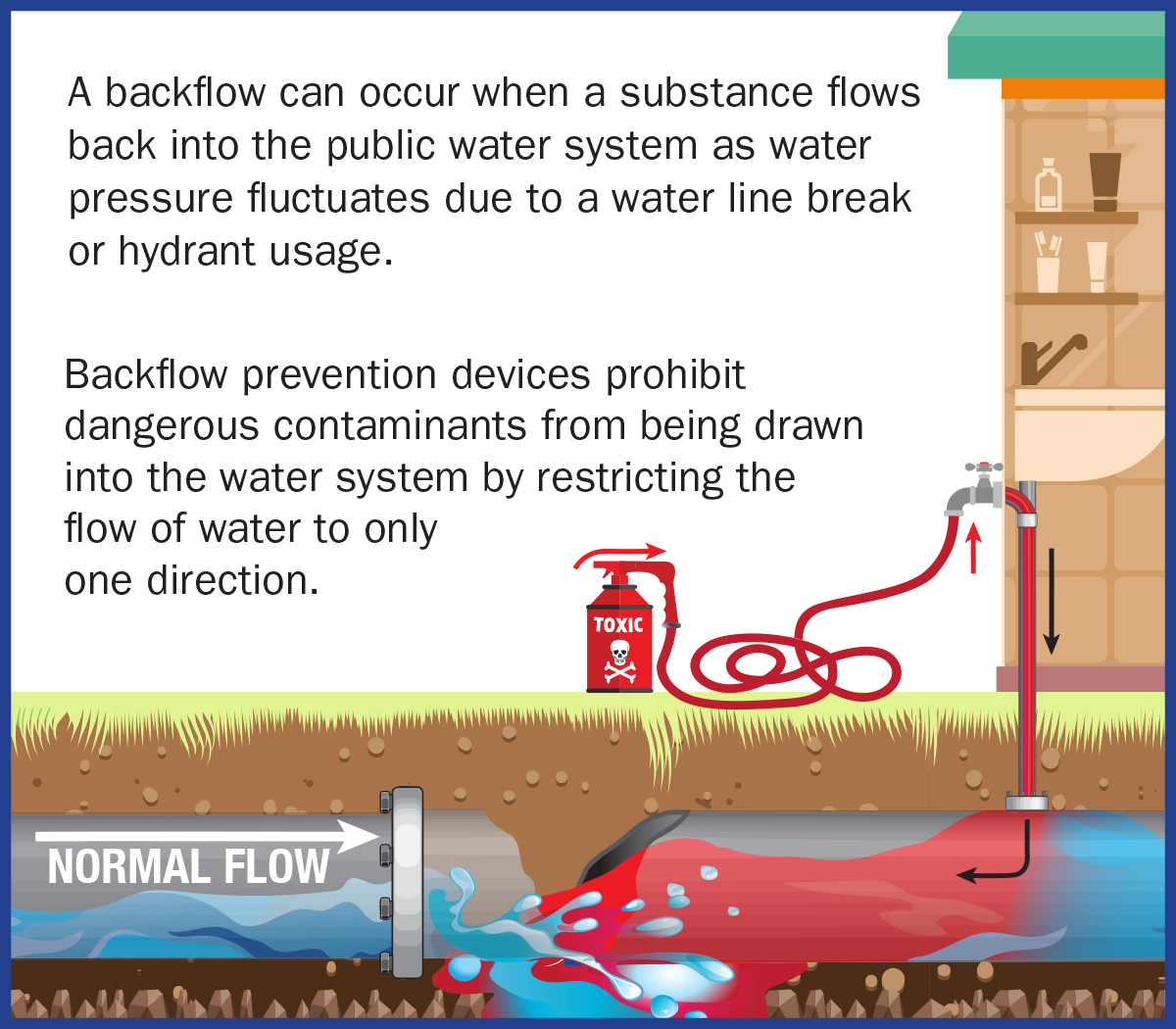 The Greenville Water Utility is conducting a cross-connection control program. This a mandate for all public water utilities throughout the United States. The Indiana Department of Environmental Management (IDEM) regulates this program and its guidelines in conjunction with the EPA and Indiana Department of Health. This document is designed to help define the hazards of cross-connections as well as the responsibilities of the Greenville Water Utility and the Customer. We trust this outreach will be able to answer some common questions and concerns of our valued customers.
What is a Cross Connection?
For the purposes of this program, a cross-connection is any physical arrangement whereby a public water supply is connected, directly or indirectly, with any secondary water supply system, sewer, drain, conduit, pool, storage reservoir, plumbing fixture, or other device which contains or may contain any water, contaminated liquid, or other waste of unknown or unsafe quality that could impart a contaminant or pollutant to the drinking water as a result of backflow caused by backpressure or backsiphonage.
Due to the potential hazards to life and health, this program is of great importance to the community. Therefore, we urge all customers, both residential and commercial, to work together with the Utility to provide the safest drinking water possible.
Water Purveyor (The Utility)
The water purveyor's responsibility begins at the source of supply and ends at the point of delivery to the consumer's water system. Within those boundaries, the purveyor must provide adequate treatment facilities, public water distribution systems, and service piping. In addition, all public water supplies shall be continuously operated and maintained so that water is safe in quality, clean and adequate in quantity, and chemically satisfactory for ordinary domestic consumption.
The responsibilities if the Utility includes:
Developing a program to ensure all potential hazards are identified and protect the water system from becoming contaminated.
Identify hazards through on-site inspections and, if necessary, require the installation of a backflow prevention device commensurate with the danger posed to life or health.
Maintain a list of all backflow prevention devices in the system and ensure all have been tested according to IDEM standards
Consumer (Residential or Commercial)
The consumer has the primary responsibility of preventing pollutants and contaminants from entering their potable water system or the public potable water system. The consumer's responsibility starts at the point of delivery from the public water supply and includes all water conditioning equipment and piping. When it is determined that a cross-connection exists on the customer's waterline, the consumer shall be required to:
Install an approved backflow prevention assembly at each service connection at their own expense.
Properly repair and maintain the device or devices.
Keep adequate records of each test and subsequent maintenance and repair.
Designated Facilities
The regulating authorities have designated the following customer facilities cross-connection hazards: (1) Aircraft and missile manufacturing plants.
(2) Automotive plants, including those plants that manufacture motorcycles, automobiles, trucks, recreational vehicles, and construction and agricultural equipment.
(3) Beverage bottling plants, including dairies and breweries.
(4) Canneries, packing houses, and reduction plants.
(5) Car washes.
(6) Chemical, biological, and radiological laboratories, including those in high schools, trade schools, colleges, universities, and research institutions.
(7) Hospitals, clinics, medical buildings, autopsy facilities, morgues, other medical facilities, and mortuaries.
(8) Metal and plastic manufacturing, fabricating, cleaning, plating, and processing facilities.
(9) Plants manufacturing paper and paper products.
(10) Plants manufacturing, refining, compounding, or processing fertilizer, film, herbicides, natural or synthetic rubber, pesticides, petroleum or petroleum products, pharmaceuticals, radiological materials, or any chemical that could be a contaminant to the public water supply.
(11) Commercial facilities that use herbicides, pesticides, fertilizers, or any chemical that could be a contaminant to the public water supply.
(12) Plants processing, blending, or refining animal, vegetable, or mineral oils.
(13) Commercial laundries and dye works, excluding coin-operated laundromats.
(14) Sewage, storm water, and industrial waste treatment plants and pumping stations.
(15) Waterfront facilities, including piers, docks, marinas, and shipyards.
(16) Industrial facilities that recycle water.
(17) Restricted or classified facilities (federal government defense or military installations), or other facilities closed to the supplier of water or to the commissioner
Additional common cross-connections found in water systems include:
Fire protection systems
Irrigation systems
Carbonated beverage machines (675 IAC 16-1.4-7)
Chemical dispensers
Water loading stations
Water trucks
This list does not include all customer facilities that pose a hazard to the system however, it does provide a scope of the danger that exists to a system without a program of inspection and enforcement per Indiana State standards.
All of these and other sources of contamination are required to install and maintain a device that prevents the reverse flow of water due to backpressure or backsiphonage.
Approved Devices
The following represents the only approved types of backflow prevention devices:
Air gap
Atmospheric vacuum breaker
Pressure vacuum breaker/Spill-proof vacuum breaker
Double check valve
Reduced pressure principle backflow preventer
These devices must be available for inspection by the Utility. Also, these must be tested yearly by an Indiana State Certified Backflow device inspection every 12 months per the Indiana Administrative Code 327 IAC 8-10-8 Inspection of devices.
A copy of each yearly inspection report must be submitted to the Greenville Water office at 9706 Clark St Greenville, IN 47124.
If the customer refuses to comply with this or any requirements covered under 327 IAC 8-10, that customer's water service is subject to disconnection to the water supply under 327 IAC 8-10-10. Additional action or fees may be assessed per Town of Greenville Ordinance No.2014-WO-017 and amendments.
Summary
The foremost goal of Greenville Water Utility is to provide clean, safe, reliable drinking water to all in our community. The implementation of a cross-connection control program is key to achieving that goal. Throughout this process, we sincerely appreciate the partnership with all our customers, both residential and commercial. We can work together to protect the health and safety of our water and everyone who enjoys it daily.
References
Indiana Dept. of Environmental Management Cross Connection Control and Backflow Prevention Manual (2016)
Indiana Administrative Code
Backflow picture credit- Portland Water District
Town of Greenville Ordinance No. 2014-WO-017
Contact Info
Tester Company Information
BSI Online